In this article, we'll be dipping our toes into the part that I know you've all been waiting for: putting that new Bitcoin wallet to use!
In order to cover a broad base, we're going to break this up into three parts, including the most common transactions for new bitcoiners:
Exchange to wallet
Wallet to wallet
Miner to wallet
Exchange to wallet
One of the most common starting places for new bitcoiners is buying coins through an exchange, followed by moving it offline into whichever non-custodial wallet you choose.
For the sake of concision, we'll be skipping the preemptive steps here and assume you already have Bitcoin in your account. Every exchange, whether it be Kraken, Coinbase, Binance, FTX, Gemini, etc., will have a straightforward way to do this, but for this example we'll be following the step-by-step withdrawal process on Kraken's website:
First, find the withdrawal button within the main taskbar.
Next, copy/paste the address that you'll be sending the funds to.
Confirm that the inputted information is correct, and finalize the transaction.
Wallet to wallet
Sending and receiving bitcoin between two wallets is the simplest of all the processes here.
Step 1: Find either the "Send" or "Receive" option depending on which side of the transaction you will be on.
Step 2: Input the address of the (either QR code or copy/paste is easiest).
If receiving, you'll be directed to a screen where you can supply the sender with either a QR code or a copy/pasted address for them to send to.
If sending, you'll be prompted with an area where you paste in the recipient's address (or QR code if you're using that), along with the amount of Bitcoin you'd like to send.
Note: before sending large transactions, it's highly recommended to first send a "test transaction" to ensure the address has been perfectly inputted into your wallet. Otherwise you may risk losing your funds.
Step 3: Confirm the transaction sent successfully.
All wallets will have some field listing your previous transactions. In order to confirm your wallet-to-wallet transaction completed, you'll want to pull up that page, and make sure it's been listed there (meaning it's been confirmed on the blockchain).
Don't worry if you don't see an immediate notification after initiating your first wallet-to-wallet transaction – it's normal for a Bitcoin transaction to take anywhere between 10-30 minutes to settle.
Once it does, you're all done!
Miner to wallet
Here's how to bridge the gap between your miner and wallet to facilitate seamless, passive payments (we'll be using F2Pool in this example).
Step 1: Select "Account Settings"
Step 2: After selecting Bitcoin from the list of cryptocurrencies on the following page, input the address you'll be pointing your mined Bitcoin to. You will also be given the option of syncing your payout address with a mining account if you have one.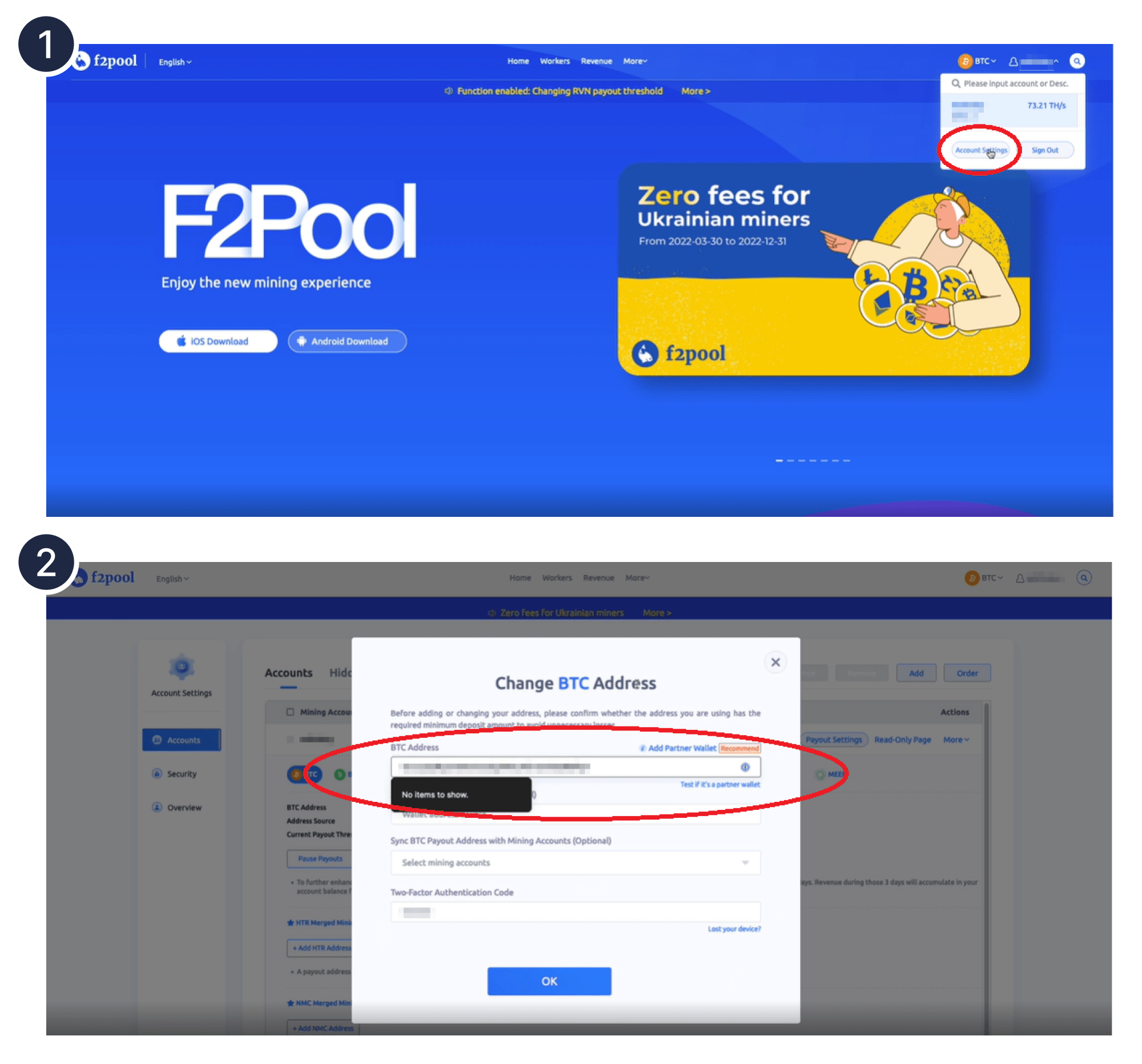 Each mining pool has different payout settings to your wallet. So, be sure to select the correct pool based on your payout preferences.
Read: How do I choose a mining pool?
Once selected, sit back and enjoy the Satoshis streaming your way!