In accordance with its diversification strategy, Argo has made several investments.
Luxor Technologies
Pluto Digital
WonderFi Technologies
Various cryptocurrencies
This article maps their current investments and cryptocurrency holdings.
Background
Argo Blockchain is a cryptocurrency mining company headquartered in London with operations in North America. The company primarily mines Bitcoin, Ethereum, and Zcash. Argo's mining strategy is focused on cost efficiency and predominately using renewables to generate hash power. In addition to mining, the company is focused on "strategic initiatives in software and technologies in the wider cryptocurrency and blockchain sectors".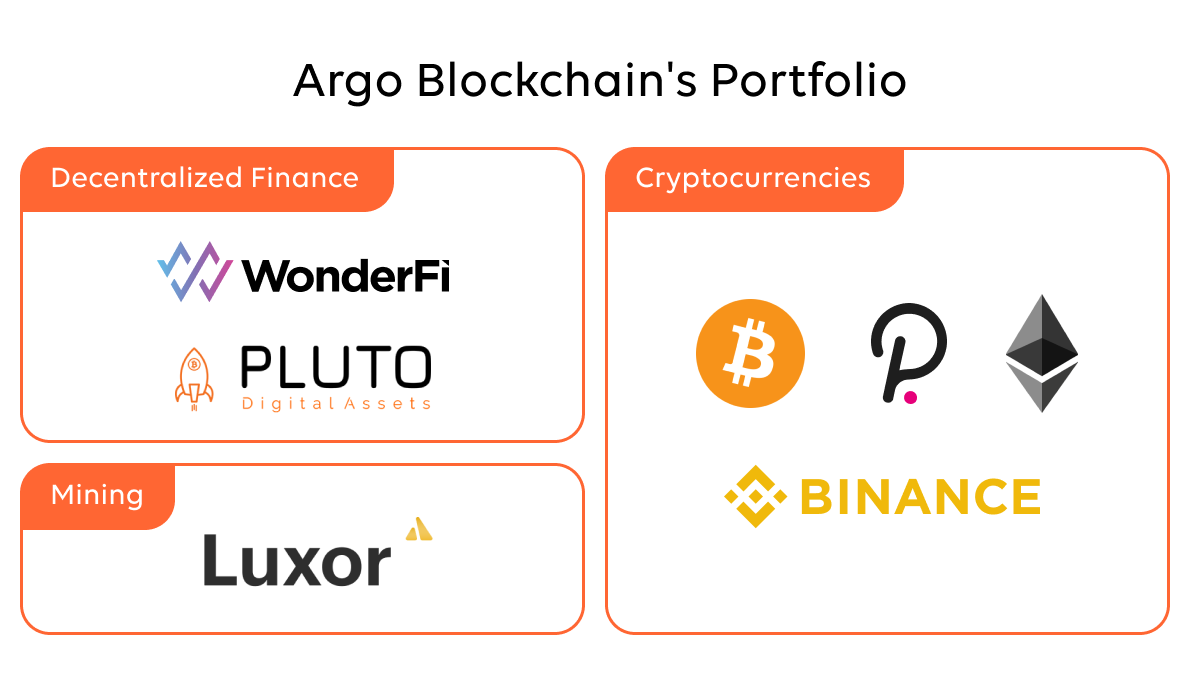 The intent of these strategic initiatives is to diversify revenue streams from proof-of-work mining. The next few sections provide some color on what Argo has been up to.
Luxor Technologies
On December 7, 2020, Argo invested $100,000 into Luxor, a hash rate management platform (Argo uses this internally too). Luxor's product line includes Switch, a "proprietary technology which uses a profit switching algorithm to maximize earnings by switching machines between blockchains and venues to maximize hashrate rewards." Currently, Luxor supports 28,000 miners and has mined over $45 million in digital assets since inception.
Pluto Digital
On February 3, 2021, Argo purchased 35.45 million shares in Pluto for a total investment of £1.06 million or roughly $1.46 million at the time. Another £7.3 million ($10.05 million) was invested in April bringing the total investment to approximately $11.51 million and stake to 24.65% of Pluto's outstanding shares. Pluto describes itself as a "crypto technology and operations company that makes Web 3.0 Decentralized Finance (DeFi) more accessible to all." Simply, it's a DeFi incubator that provides support to early-stage projects. Argo states: Pluto will generate revenue through returns on investments and from running nodes and validators.
WonderFi Technologies
On May 10, 2021, Argo participated in a fundraising round for WonderFi and invested £146,000 ($201,000). WonderFi is "a technology company with a mission to bring decentralized finance to the masses through a suite of products and tools". The DeFi platform offers buying, swapping, lending, and investment services. In October 2021, the company entered into a partnership with DeFi Pulse to offer DeFi indexes through the platform. Some other prominent shareholders and partners include Kevin O'Leary (Mr. Wonderful) and Sam Bankman-Fried (FTX CEO).
Cryptocurrencies
In addition to making strategic investments into commercial opportunities, Argo manages a crypto portfolio. Argo holds on to a fraction of its mined coins and makes purchases in the OTC market. As of 2020 end, Argo's treasury included Bitcoin, Ethereum, Polkadot, Binance Coin, and stable coins (USDT and USDC). This is a major reduction from 2019, when the company reportedly held XTZ, BEAM, XRP, ZEC, LTC, BCH, EOS, and other altcoins. These are the latest figures we were able to find on their crypto portfolio. Since then, Argo has significantly increased its holdings to 1,836 Bitcoin or BTC equivalent as of September 2021. Below is a table comparing its holdings from 2020 to 2019.
Conclusion
Argo Blockchain is a diversified crypto miner, and it achieves this by mining multiple coins, investing in companies/platforms that use alternative consensus mechanisms like proof-of-stake, and managing a crypto portfolio. Whether or not it's successful, is to be determined. Nonetheless, Argo differentiates itself from its peers and offers investors a unique opportunity.